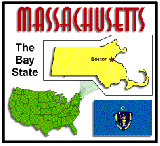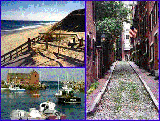 Bed & Breakfast Reservations serving Greater Boston, Cape Cod and the Massachusetts North Shore (see information-frame under Boston)


MASSACHUSETTS
When the background of the information-symbol is colored green, it means you will find additional information about services in this community/area.

Als de achtergrond van een informatie-symbool groen gekleurd is, betekent dit dat dat u aanvullende informatie aantreft over diensten in deze plaats/dit gebied.

| | |
| --- | --- |
| | LINKS TO GENERAL SITES IN MASSACHUSETTS |
| | |
| | COMMUNITIES/AREAS IN ALPHABETICAL ORDER |
| | |
| | |
| | |
| | |
| | |
| | See also under Lee (The Parsonage on the Green) and Lenox (The Village Inn) for info about accommodation. |




Thomas and Carolyn Wood, Hosts

155 Willow St., So. Lee

Phone/Fax: 413-243-4667

E-mail: Innkeeper@millcottage.com

MILL COTTAGE IN THE BERKSHIRES

A warm Berkshires welcome awaits you at this beautifully furnished 1845 mill cottage in a country setting at the foot of Beartown Mountain over-looking the Housatonic River, and yet just five minutes from Norman Rockwell's famous Stockbridge Main Street. Afternoon tea or a cool drink are offered to our guests upon arrival. Gourmet break-fasts are served here while guests enjoy the view of our acre of lawn and garden framed by 90 ft. pines and maples. Birdwatchers will delight in the cardinals, gold finches and nuthatches that come to the feeder.




BOSTON




BED & BREAKFAST RESERVATIONS (Boston - Cape Cod - North Shore Massachusetts) A Bed & Breakfast Reservation Service, providing visitors to New England with carefully selected accommodations in historic cities and oceanside towns since 1985. Serving Greater Boston, Cape Cod and the Massachusetts North Shore. Gift Certificates available. E-mail: info@bbreserve.com

CAMBRIDGE

IRVING HOUSE & HARDING HOUSE Cambridge, Massachusetts, New England

Friendly accommodations in the heart of Cambridge since 1945. Conveniently located two blocks from Harvard Yard, our guesthouse offers homey atmosphere and practical amenities. Rates include limited off street parking. Families welcome, smoke free environment wheel accessible. E-mail: rachel@irvinghouse.com

www.irvinghouse.com

See under Boston (B&B Reservations)

For information about accommodation:

See under West-Yarmouth (Dockside Hotel Group)

See under Chatham (Highlander Motel)

See under Dennis (Pine Cove Inn)

See under South-Yarmouth (The Dunes Motor Inn)

See under Falmouth (The Wildflower Inn)

See under Yarmouth (Blueberry Manor)

See under Boston (B&B Reservations)

See under Provincetown (The Ampersand)

See under Provincetown (The Benchmark Inn)

See under Eastham (The Overlook Inn)

CHATHAM

CHATHAM HIGHLANDER MOTEL The perfect place to experience the beauty and wonder of the Cape

. A delightful modern single story 28 room motel set on a picturesque knoll, located at the edge of the village within the historic district. Spacious rooms. Two heated in-ground swimming pools. 946 Main Street (Route 28), Chatham, Cape Cod. E-mail: highland1@capecod.net

www.realmass.com/highlander

COLRAIN

HIGH POCKET FARM BED & BREAKFAST High Pocket Farm is located in picturesque Colrain, Massachusetts nestled on a knoll at the end of a secluded dirt road. Our farmhouse is 160 years old with a new 4 stall timber frame barn, a seperate game room, and a hot tub on 545 acres. A myriad of trails for all abilities await your exploration on horseback, foot, or mountain bike. Our cozy farmhouse has a large kitchen and pantry, laundry room, dining room,, comfy living room with fireplace, TV and VCR, and 3 bedrooms with private baths. The outdoor hot tub faces majestic views into Vermont. Breakfast is served daily at 8 and the kitchen is available for your own lunch and dinner preparation.







HIGH POCKET FARM B&B

38 Adams Place Rd., Colrain, MA 01340

Phone: 413-624-8988

hstone@mtdata.com

CONCORD

PINE COVE INN Dennis, Cape Cod. A circa 1860 antique colonial home on beautiful Cape Cod. Enjoy sparkling waterviews from your bed and breakfast room, homemade breakfast treats on the deck, patio, in our parlor, or take the 20 yard down to the water's edge of Pine Cove Beach and enjou the sunrise with all the spectacular scenery that Cape Cod is famous for. Our bed and breakfast inn is located right in the heart of Cape Cod, making Cape-wide activities convenient and easy to get to. And when you don't feel like driving there are restaurants lounges and entertainment within walking distance. Our rooms are luxuriously appointed and decorated. Most have private baths and water views. Each room is equipped with TV, phone, A/C, small refrigerator and clock radio. The finest of linens, daily housekeeping and homemade continental breakfast.







PINE COVE INN

5 Old Main Street, West Dennis, MA 02670

Phone: 888-760-8477

www.pinecoveinn.com

sales@pinecoveinn.com

THE OVERLOOK INN The Overlookwas built in 1891 for Mrs. Sarah Hatch Chipman. Given the recent death of her husband, Captain Barnabus Mayo Chipman and the growth of her family, Mrs. Chapman built this splendid example of Queen Anne Victorian architecture as a second property and as her new principal residence. Each of the Inn's ten distinct bedrooms feature private baths (some with claw foot tubs), queen size brass beds and down comforters. Wicker, lace, fine artworks and abudance of good books abound. The innkeepers also offer weekly seasonal rentals of the self-catering Virginia Lodge and Catherina's Cottage located adjacent to the inn.







THE OVERLOOK INN

3085 County Road (Route 6)

Eastham (Cape Cod), MA 02642

Phone 508-255-1886

stay@overlookinn.com

THE WILDFLOWER INN VOTED #1 B&B ON UPPER CAPE. An award winning inn, located in the historic district. Six charming guest rooms, private bath, whirlpool tubs, five course edible flower breakfasts as seen on PBS-Television, A/C, bikes, walk to ferry shuttle, restaurants and shoppes. E-mail: wldflr167@aol.com

See under Boston (B&B Reservations)

HAMILTON

MILES RIVER COUNTRY INN Hamilton, MA 01936 USA

This 24 room, 200 year old manse sits on 30 acres of lawns, gardens, meadows, marshland and deep forest. In the middle of Boston's

North Shore

horse country and Cape Ann's dramatic coastline, we serve a full farm breakfast with eggs from our resident flock of chickens. E-mail: milesriver@mediaone.net

www.milesriver.com

THE PARSONAGE ON THE GREEN A very special B&B

20 Park Place, Lee, MA.01238, phone: 413-243-4364.

One mile from Exit 2 of the MASS. Turnpike. 1851 colonial gem on quiet corner of village green, private baths, queen size beds, full breakfast by candlelight.

MILL COTTAGE (See: The Berkshires)

THE VILLAGE INN Lenox,MA (Berkshire Mtns., Western MA) Church St., Box 1810, Lenox, MA,01240 (exit 2 Mass. Pike to Rt. 20&7). Historic 1771 Berkshire Inn. 32 individually furnished rooms with private bath, in room telephone, TV, VCR. Full breakfast, afternoon tea, candlelit dinner inour romantic Dining Room. Open all year. Special packages Prices:($40-$255). Phone: 1-800-253-0917

MARBLEHEAD

MARLBOROUGH

MARTHA'S VINEYARD

MERRIMACK VALLEY

NANTUCKET

See under Boston (B&B Reservations)

see under Boston (B&B Reservations)

NORTHAMPTON

ONSET

THERMOMETERMAN OF CAPE COD

The Porter Thermo-meter Museum (World's Only) is always open FREE with over 3500 to see. Featured in Ripley's and Guinness, 100 articles and 35 TV appearances. It caters to tourists, seniors, students and weather buffs. To visit, call (508) 295-5504 or book a traveling history lecture already given 500 times. Repairs too. Onset, Cape Cod, Massachusetts. E-mail: thermometerman@aol.com Web site:

http://members.aol.com/thermometerman/index.html

PLYMOUTH

FOXGLOVE COTTAGE Elegant & Romantic Lodging for the Discerning Traveler.

Lovingly restored 1820 Cape, in a pastoral setting, away from the bustle of tourist traffic, but close to Plantation and beaches. All our antique furnished rooms have en-suite private baths, AC/heat, sitting area and working fireplaces. Enjoy a full breakfast on our deck off the large Common Room. 101 Sandwich Rd., Plymouth, MA 02360, phone 508-747-6576. E-mail: tranquility@foxglove-cottage.com

www.foxglove-cottage.com

PROVINCETOWN

AMPERSAND GUESTHOUSE A fine example of mid-nineteenth century Greek Revival Architecture, Ampersand Guesthouse is located in the neighborly west end of Provincetown, just a short walk from town center. Each of the bedrooms is unique in its layout, creating a range of accommodations from singles to suites of two to three rooms. All are furnished in a careful blend of contemporary appointments and restored antiques, many original to the house. A studio apartment which looks out on both the water and the yard is also available. All rooms have private baths. Continental breakfast is served daily in the large, gtacious living room, a gathering place for guests throughout the day and the evening.







AMPERSAND GUESTHOUSE

6 Cottage Street, Provincetown (Cape Cod), MA 02657

Phone: 508-487-0959 or 800-574-9645

ampersand@capecod.net

THE BENCHMARK INN Seven splendid bedrooms and penthouse suite are wrapped in a soaring one hundred-fifty year old Greek Revival style home. From handrails overlooking historic Provincetown and its harbor enjoy morning coffee or breathtaking sunsets. Read or converse at the secluded garden patio or handsomely appointed common room. Next door at the all new Benchmark Central, plunge into our heated pool or enjoy our spa & sauna room. All Benchmark Inn rooms feature (among others) fresh flowers, luxurious bedding and down comforter, marble tiled bathroom with hair dryer and deluxe toiletries, air conditioning, fireplace, ceiling fan, Terry robes, TV/VCR (video library), refrigerator, coffee maker and supplies.







THE BENCHMARK INN

6 & 8 Dyer Street, Provincetown (Cape Cod), MA 02657

Phone: 888-487-7440 or 508-487-7440

benchmarkinn@aol.com

THE LOBSTER POT RESTAURANT Renowned Seafood

, Provincetown, Cape Cod, Massachusetts. "

A Provincetown tradition

" to those visiting the Outer Cape. Our two water-front dining rooms provide the harbor views while our full menu, served all day, offers the finest & freshest in sea-food, Portuguese specialities, steaks, poultry, vegetarian & light fare. Cocktails served in the "Top of the Pot" bar. Open mid-February through December. E-mail: lpot@wn.net

www.ptownlobsterpot.com

MOORS MOTEL

Natural setting, beautiful sunsets, tranquil tides --

one of the best 180 degree views in Province-town

. In-season pool, continental breakfast. Visit our web site:

www.provincetown.com/moors

E-mail: moors@provincetown.com

SALEM

SOUTH-YARMOUTH

THE DUNES MOTOR INN

170 Seaview Avenue, South Yarmouth, Cape Cod, Massachusetts. Very nice, quiet motel located just 300 yards to Nantucket Sound. Central to all Mid-Cape activities.

Very reasonable and popular off season Bed and Breakfast Specials!

Phone: 508-398-3062 / 800-237-5070. E-mail: thedunes@capecod.net

www.thedunescapecod.com

MILL COTTAGE (See: The Berkshires)

WEST-YARMOUTH

DOCKSIDE HOTEL GROUP

West Yarmouth, Cape Cod, Massachusetts.

Cape Point - Mariner- Town n' Country

--Three great vacation properties with a variety of amenities and rates.

What are you looking for?

Indoor and outdoor pools, saunas, whirlpools, sports lounge, breakfast cafe, free coffee all day, miniature golf, picnic & BBQ, children's play area, kiddie pool, video games, elevator, VCR's, conference rooms, low rates???

The Dockside

has a property for you. E-mail: info@mariner-capecod.com

www.docksidehotelgroup.com

WORCESTER

see also: West-Yarmouth (Dockside Hotel Group)

see also: South-Yarmouth (The Dunes Motor Inn)

BLUEBERRY MANOR - Yarmouth Port.

Historic ambiance meets luxurious comfort at this grand Greek Revival home surrounded by gardens. Three guest rooms and elegant suite with fireplace offer new private baths, AC, ceiling fans, antiques, floral bouqets and splendid breakfasts. Near beach, walking trails, dining, shopping and golf.

www.blueberrymanor.com

E-mail: blueberrymanor@mediaone.net