AMERICA ON WOODEN SHOES


I am approaching the first primary target of this journey, the coast of Maine, when I reach US Highway 1, the highway which stretches out all the way from the Florida Keys to the utmost north-eastern part of Maine.
In Waldoboro, I leave this attractive route along the coast to find a place for the night in The Roaring Lion (995 Maine Street, 207-832-4038), a Bed & Breakfast operated by Robin and Bill Branigan.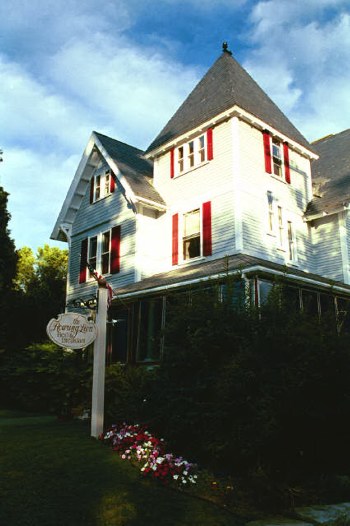 The Roaring Lion B&B, Waldoboro, Maine
The Roaring Lion is a wooden building of rare beauty dating from 1905. It got its name because the Branigans spent a part of their life working in Africa. Notwithstanding the excellent and personally decorated bedrooms, the cozy sitting room and the comfortable porch, it is mainly the outstanding breakfast which comes to mind all the time. As it turns out, Bill is a gifted cook and his creation of Blueberry Muffins is really unsurpassed. If you are not able to visit The Roaring Lion yourself, you may take a look at their web site (
www.roaringlion.com
) because Robin told me that one of these days some of their recipies will be locally published. Incidently, in addition to my
TRAVEL HANDBOOK NEW ENGLAND,
I am also planning to publish a cookbook consisting of traditional New England recipies from Bread and Breakfasts and Inns, and in this book I will reserve a special place for Bill's muffins.
About Waldoboro: its a small town with not much to see and do, but for those who are looking for a quiet and pleasant accommodation for the night, could not wish for anything better. One piece of advice: although the local restaurant Moodys for some stange reason has quite a reputation as a special place for eating out, from my personal experience, this establishment reminded me of a mere canteen. Not only was the quality of the food very mediocre, even the service could definitely use improvement.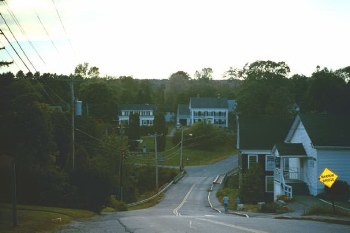 Maine Street of Waldoboro

Take an attractive bay, a marina and a former fishing town that nowadays survives, thanks to tourism: one out of ten times, the result is very popular, but seldom deserves a prize in a beauty contest. To my relief, Camden does not belong in this category. From the very first moment, this town made a lasting impression on me.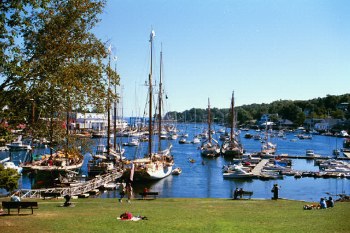 Camden, Maine
At the edge of town there are some modest examples of fastfood-restaurants and motel-chains, but those 'blessings' of modern tourism have not been able to alter the nice townscape. Completely justified most people who visit Camden seems to prefer to stay the night in one of the countless bed & breakfasts and to dine in a restaurant where food is still prepared by a cook. For example, at Cappy's Restaurant, I had a tasty 'Schooner Omelet' for a reasonable price.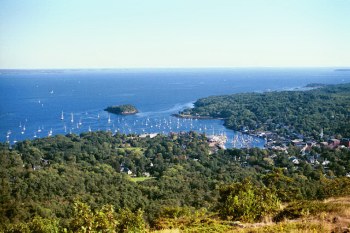 Camden and the bay as seen from Mt. Battie
Camden is situated where the mountains and the sea meet each other. An excellent spot to view this is from the peak of Mt. Battie in the Camden Hills State Park. This nature park consists of several attractive trails, but the top of Mt. Battie, crowned with a stone watchtower, is also reachable by car over the Mt. Battie Road which was build in 1896.
The presence of the coastal mountain range not only offers a beautiful view to Camden, but also allowed the town to think of an unusual solution for the extension of the local library. Building an extra annex met with objections from the people living on the higher slopes, since it threatened to destroy their sight over the bay. A local benefactor supplied the money for a playful alternative: realisation of the extension (1995) by means of digging it out in the mountain. This means that nowadays Camden is one of the rare places with an underground library.