AMERICA ON WOODEN SHOES


Compared to Camden, Bar Harbor is a marina filled with international exposure. Literally because the town is visited by huge cruise-ships and has a ferry connection with Nova Scotia in Canada.
The attractive location on Mount Desert Island (which nowadays for a big part is reserved as Acadia National Park), contributed to the fact that Bar Harbor became an exclusive holiday-resort at the end of the 19th century. Signs of those days are still visable by means of the great number of splendid mansions, notwithstanding the fact that a huge forest fire in 1947 destroyed a large part of "Millionaire's Row" and put an end to the days Bar Harbor was the playground of the Fords, Astors and Rockefellers. Many of the mansions are still in use as summerhomes for those who can afford such cottages, but several others have been rebuilt into beautiful bed and breakfasts or inns.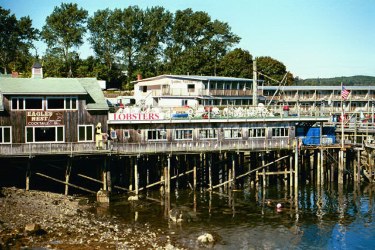 Bar Harbor is a particularly nice tourism-town. The extremely beautiful Acadia National Park is only a few minutes drive away and although this area of natural beauty most definitively deserves an extended exploration, visitors with only limited time can spend a rewarding day in the park as well. The Park Loop Road is 43.2 km. long and passes several interesting view points. Although the trip can be easily made in little over one hour, it is a good idea to reserve at least half a day.
Beautiful places to stop where you can also make a short to a longer hike, are among others Sand Beach, Thunder Hole, Otter Cliffs, Jordan Pond and Eagle Lake. A (literal) highlight of the trip is the drive to the peak of Cadillac Mountain (466.3 meters); the highest peak along the Atlantic coast north of Brazil.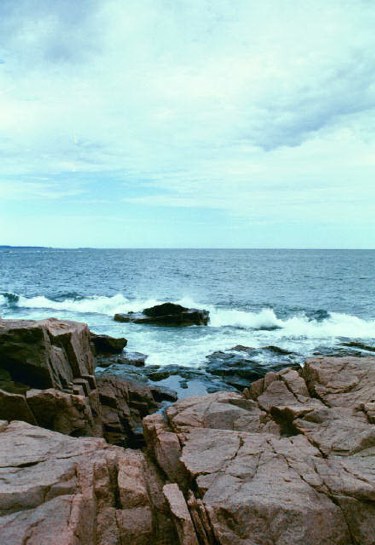 Acadia National Park
Apart from countless possibilities for excursions and activities, Bar Harbor also offers everything you can wish for an evening out. There are many good restaurants and bars in town, as well as, charming streets for shopping.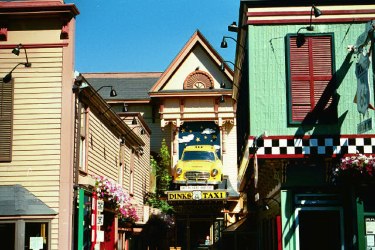 Bar Harbour Police Beat

Of course there are many souvenir-shops in Bar Harbor with a wide selection of knick-knacks (Top 3: red lobsters, brown moose and 'famous' Maine blueberries). However, if you are looking for a unique memory of this part of Maine, I have a better idea for you: a copy of the book BAR HARBOR POLICE BEAT by Richard Sassaman. Written in a style which reminds me of Garrison Keillor's Lake Wobegon Days, Sassaman writes about what is going on in a quiet town in Maine by means of police reports as they are published in the local newspaper, the Bar Harbor Times. Just in case you figured the local police force in a town like this must have an easy existence, BAR HARBOR POLICE BEAT proves you wrong.
In an almost endless series of anecdotes, Sassaman talks about crime, violence, deceit and even passion to which the men in blue is this peaceful town are confronted. My favorite stories are: the one of the woman who was found at 5.30 am on a Saturday morning, hanging upside down on Main Street; of the man who escaped injury after being struck by a gasoline pump, and of the woman who had to go to the bathroom and plunged 30 feet to the rocky stream bed below after stepping over the edge of the bridge, thinking it was only a stone wall.
BAR HARBOUR POLICE BEAT costs $16 (shipping and handling included) and can be ordered from the author Richard Sassaman, Box 234, Bar Harbor, 04609, Maine,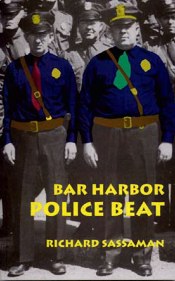 cover Bar Harbor Police Beat